If you choose to pay your order by credit card online, your information is encrypted and protected via the STRIPE system.

The communication with your computer or tablet or phone uses SSL (Secure Socket Layers).
By associating ourselves with a well-known player in the market, we guarantee the security of all your online payments.
The symbols and the mention " https " in the address bar confirm the confidentiality of your transaction.
Means of payment accepted: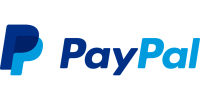 The cost of our packages contributes to the operation of our platform and allows us to offer you complete services such as telephone and email support.