Room & Accommodation & Shared Apartment for Single Parent Families
Free cohabitation between Solo Parents
What is a Monoparental Family?
Are you single? Single parent with one or more children? Solo Dad or Isolated Mom? You then form with your cherub a Monoparental Family. First, be aware that the number of single-parent families has been growing steadily over the past 40 years. More precisely, this corresponds to one in four families according to INSEE! More than 3.4 million underage children live in these new homes.
Thus, to meet financial needs, a separation generally involves each parent working. Combining work and family life is often complicated. This is why working, but also thinking about picking up children at school, accompanying them on cultural or sports outings, helping them with their homework, shopping or getting home in time to prepare meals and put them to bed make days a permanent race against time and form a daily stress that is difficult to keep up.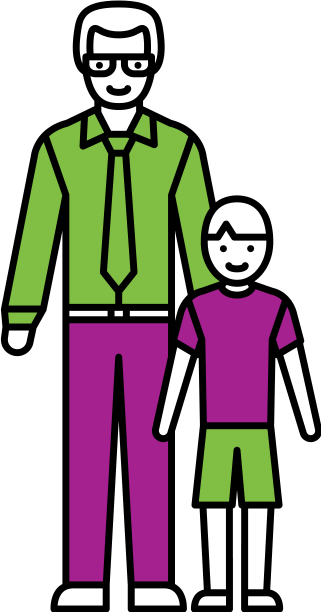 Solutions to make your life easier!
Housing for Services guaranteeing you targeted daily assistance
Single-parent shared
Accommodation allowing you not to be alone after a separation while sharing the daily expenses related to the daily life
Monoparental Cohabitation offers the help of an adult, also a parent. Caring and sharing the same problems, this person provides a concrete solution to everyday problems.
What type of single-parent cohabitation?
First, "housing for services" is an alternative type of rental. This allows an owner or tenant (with the agreement of his owner) to make all or part of his accommodation available free of charge (or for a low rent) in return for services rendered. These services can be: Home Sitting, Home Help, Baby Sitting & Baby Sitter, DIY & Small Work, Pet Sitting, Day Care, Night Care, Child Care, Elderly Care, Disabled Care, Property Care, Gardening, Household, Shopping, Ironing, School outings and School Support.
La Colocation monoparentale
Ensuite, la Colocation monoparentale, c'est quand des parents qui élèvent seuls leurs enfants se regroupent pour louer ensemble un logement. Ce qui permet de partager les frais, éviter la solitude ou l'isolement. Elle concerne tous les parents solos – les pères célibataires comme les mères célibataires – qui doivent se trouver un nouveau logement après un changement de vie, un divorce, une séparation.
Il y a de nombreux avantages à la colocation monoparentale. Le principal est de pallier à la solitude à la fois pour les parents et pour les enfants tout en facilitant l'organisation du quotidien. Surtout si les enfants ont des âges similaires et vont dans les mêmes écoles.
Single-parent shared apartment
Finally, Single Parent Cohabitation links Single Parent Co-location and Housing for Services. Thus a single parent, single father or mother with one or more children can receive another single parent free of charge in exchange for specific assistance (classes, cooking, tutoring, support, etc.). This is to be able to trade skills and services in exchange for housing for him and his offspring. The idea is to offer a living space based on solidarity, mutual aid, support, involvement and the enhancement of each other's experiences.